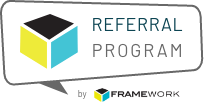 FrameWork is working hard to grow alongside our clients, and to achieve that, we want to work with more amazing small businesses just like those that we have the privilege of serving every day!
A referral is the greatest compliment we could ever receive, and it's not something that we take lightly.  If you feel that FrameWork is doing a great job of serving your needs, and you know of someone who owns or works in a business that needs IT assistance, please don't keep us a secret!  We would love to help them!
Our referral program is a way of saying "Thank You!" for thinking of FrameWork in those moments.  For each potential client with 10 or more users that we have an opportunity to sit down and visit with, we'll send you a $50 Amazon Gift Card.  When that referral signs up for FrameWork's fully managed IT services, BOTH companies will receive a $500 credit once the new client on-boarding process is completed.
If you know someone that you want to refer to us, give us a call today at 971-337-3700. Alternatively, you can fill out our referral form HERE at your convenience. Of course, we will continue working hard to deliver extraordinary support to our clients in order to truly earn every referral received.  This is simply a small thank you to honor the trust placed in us.
Do you have questions?  Any suggestions on how we can improve?  Please send them along to kevin@framework-it.com so that we can serve you better; your input is always valued!
Sincerely,
Kevin Dunigan